Network Sleuth provides a lightning fast search engine and includes the ability to
search hidden network resources, restricted access resources, IP subnets and much
more. It comes with a built-in password manager to store your network logins for
resources with restricted access.

NetworkSleuth can scan hidden resources and automatically login to restricted
shares using the provided login information. The found files can be copied, moved
etc. just as if you were working with Windows Explorer.

NetworkSleuth also enables you to schedule search tasks to be executed
automatically. Additional features include result sorting, filtering, search within results,
minimize to tray, scanning inside zip files and exporting of results to TXT, HTML and
CSV format.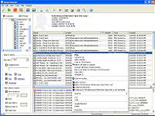 Full version for
only $19.50


NetworkSleuth Key Features
Search Different Files on a LAN
NetworkSleuth enables you to search different files on different machines available
on a network.
Search All Resources
NetworkSleuth enables you to search all available resources on a network.
This allows you to scan all machines for selected files. So, you no longer need
to input all machines name to search files.


Search Selected Resources
NetworkSleuth enables you to search selected machines. This will provide the
facility of searching selected machines only.
Search with Filters
NetworkSleuth gives you the power to apply filters on you search operation.
These filters include, Date, Time, Size and attributes.

Schedule Task

NetworkSleuth enables you to schedule search tasks to be executed automatically.
Remote Access Management
NetworkSleuth has a passwords management system, through which you can add
the correct user names and passwords for single remote computer or you can add
ore user name-password pairs for network computers.


Allows Searching Files on Network Computers
NetworkSleuth supports Local Area Network ( LAN ) search features, such as
searching through an IP range, searching through specified computer name,
user-password management, etc.


Low Cost Solution for Network Search
The cost of the NetworkSleuth is much less then the cost of the other
Network Search Tools available in the market.